Wet chemical processing is used for a variety of purposes, from chemical removal of material (wet etching) to deposition of material (electroplating), to sample cleaning, to the creation of patterns on the surface using optical lithography techniques. Many chemicals and materials can be handled in the NTC cleanroom.
WS 1000 WER STATION – LAURELL
The Laurell WS-1000 Series Spin-Process Station allow chemical etching and cleaning of masks and wafers. It has pressurized canisters for the chemicals and allows automatic process controlled by PLCs.
Cp 7-d ( fm 4910) Self-extinguishing polypropylene construction
Dual zero-porosíty solid PTFE-TFM process chamber
Easy-access nitrogen &DI spray guns
lsolated component drawers for valves, heaters, pumps, vessels, etc.
Vertical Laminar Flow Wet Process Fume Hood NU-156
The FumeGard NU-156 Vertical Laminar Airflow Fume Hood for High Acid and Trace Metal Analysis is a Fume Hood constructed almost entirely of polypropylene, with vertical laminar airflow allowing work in an environment particulate-free and secure for the user.
The high inflow velocity (<0.6 m/s) with the opening in the working position passes the UPV regulations for working with toxic materiaIs, such as Hydrofluoric Acid. lt also uses UV-free lighting so that a photosensitive process can be carried out in it.
Overall Dimensions
(W x O x H):
Work Area Dimensions
(W x O x H):
Dedicated glassware
Magnetic stirrer and heater
Ultrasonic cleaning bath
Ultrapure water
Nitrogen gun.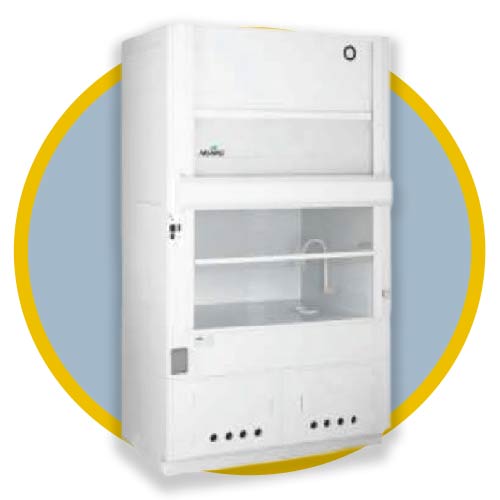 Compass SRD is a Spin Rinsing and Drying system that allows automatic DI water rinsing and hot N2 drying of wafers up to 200mm diameter.
E-Plating Au - MBY
AVAILABLE SOON
Idonus hydrofluoric (HF) acid Vapor Phase Etching (VPE) is based on the chemistry of HF acid which selectively etches silicon dioxide (SiO2) while silicon (Si) remains intact. Etching in an HF acid vapor atmosphere is a quasi-dry process. By controlled heating of the substrate, the amount of vapor on the wafer – and thus the etching rate of SiO2 – can be adjusted in a reproducible means. Since the wafer is never in contact with any liquid, stiction-free MEMS release can be achieved with a high yield. Typical etch rates of SiO2 achievable with HF in vapor phase are in the range of 4 – 10 μm/hour. It allows substrates from samples up to 200 mm diameter wafers.