Instead of using a light source, such as in optical lithography, electron beam (e-beam) lithography utilizes an electron beam to generate the patterns on the sample. Because of the much shorter wavelength, we can achieve much higher resolution features; however, because it is a single electron beam writing the sample, it takes longer to generate the pattern on the sample.
MASK ALIGNER+ NANOIMP.SUSS
​
E-BEAM LITHOGRAPHY VISTEC-EBPG5000
The Vistec EBPG 5200 is a dedicated direct-write Electron Beam capable of patterning large areas by high-resolution. This instrument has substrate holders to handle 3″ wafers, piece parts from a couple of mm to 3″ diameter and 6″ mask plates. While this instrument can be set to operate at 20, 50, or 100 keV, it is normally set for 100 keV operation.
160 (167.77216) … 1000 (1048.576) μm (20 bit)
1.31072 … 4.525 μm (14 bit, 100 kV)
lnterferometer resolution:
The Raith 150 is an electron beam capable of exposing structures smaller than 10 nm and working with sample sizes from a few mm to 6-inch wafers. Its filament works from 0.2 to 30 KeV and has a pattern generator of 20 MHz. With itsKV imaging capabilities, the Raith150 e-beam alsos allows for surface-sensitive high-resolution isnpection, metrology and process control.
100 eV to 30 KeV TFE filament
Beam size 1 ke V using the 30 μm aperture: 
Beam size 20 ke V using the 30 μm aperture:
Beam position drift: with resting stage, register 1 mark every 15 min, at 10 keV:
maximum 10 nm/min or 600 nm/hour
Lithography specifications Minimum feature size:
minimum feature size <20.0 nm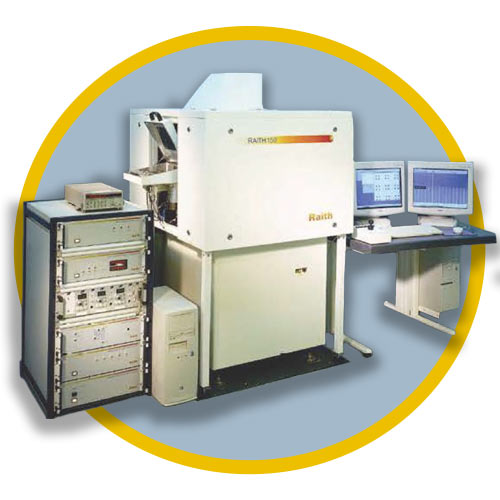 ELECTRON BEAM LITHOGRAPHY SUSTEM. JBX-8100FS
The JBX-8100FS writes ultrafine patterns (5nm) at a faster rate of speed while minimizing idle time, especially during the exposure process, thus increasing throughput. The system has substrate cassettes for few mm piece parts, 4-inch, 6-inch and 8-inch wafers as well as for 7-inch masks and includes an autoloader whith 12 positions. It includes two writing modes: High resolution (with writefiels of 100 microns) and High throughput mode (writefields of 1mm). It makes use of a100 KV Schottky FEG filament and has a pattern generator of 125 MHz.
(HT mode) 1,000um x 1,000um
(HR mode) 100um x 100um
Proximity, Soft, Hard contact
SUSS MA/BA8 Gen4 Mask Aligner & SMILE Imprint up to 200mm wafers
The MA/BA 8 is a combination mask aligner and NIL equipment (Nanoimprint Lithography). The mask aligner has a LED UV lamp which allows to make photolithography on 4", 6" and 8" wafers with a 0.5 um precision alignment. The NIL offers a <50um resolution for nanoimprint on substrates up to 8" with a residual thickness layer below 25nm. It also has a separate unit (UV-SFT8) for the fabrication of stamps made on flexible foils..
Top side alignment (accuracy<0,5µm)
Lamp UV-LED (i-line,h-line,g-line)
Line/space resolution <0,8µm (6")
 / <1,5µm (8″) (vacuum contact)
UV-SFT8 (UV-LED) unit far stamp fabrication resolution <50nm
Residual layerthickness <25nm