HORIBA UVISEL Plus ellipsometer
The UVISEL Plus ellipsometer provides a powerful optical design to continuously cover the spectral range from 240 to 2100 nm. It enables the detection of very thin films or interfaces that no other ellipsometers can see as well as the characterization of thick layers up to 50µm. The measurement and characterization of transparent samples with backside reflections are simple and accurate and doesn't require the scratch of the backside. DeltaPsi2 software provides a complete measurement and modelling package allowing to address both routine and advanced thin film applications.
From 55° to 90° by step of 5°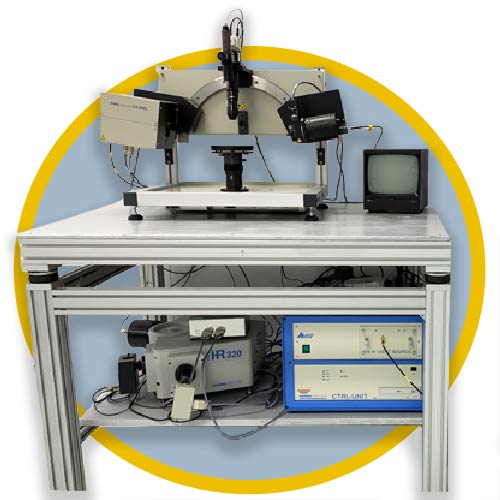 SENTECH laser ellipsometer SE 400adv
The SE 400adv is the SENTECH laser ellipsometer (663nm) for thickness measurement of ultra-thin single films. The compact table top instrument comprises the ellipsometer optics, goniometer, sample platform, auto-collimation telescope, HeNe laser source, and detection unit.  The fully integrated support of multiple angle measurements (40 ° – 90 ° in steps of 5 °) can be used for determining thickness, refractive index, and extinction coefficient of layer stacks. Multiple angle measurements are also applied for absolute thickness measurement to compensate the ambiguity of thickness measurement in laser ellipsometry.
From 55° to 90° by step of 5°
SENresearch 4.0 spectroscopic ellipsometer
The SENresearch 4.0 spectroscopic ellipsometer covers the widest spectral range from 190 nm (deep UV) to 3,500 nm (NIR). High spectral resolution is offered to analyse even thick films up to 200 µm thickness using FTIR ellipsometry. The extension of the SSA principle by the innovative 2C design allows measuring the full Mueller matrix. The new motorized Pyramid Goniometer features an angle range from 20 deg to 100 deg, as a result the spectroscopic ellipsometer arms can be moved independently for scatterometry and angle resolved transmission measurements. The SpectraRay/4 is the full-featured software package for advanced material analysis.