Deposition or Growth refers to the controlled synthesis, growth, or transfer of materials as thin films on a substrate. A thin film is a layer of material ranging from fractions of a nanometer (monolayer) to several micrometers in thickness. Based on the growth dynamics which prevail during the deposition, the resulting material can be amorphous, polycrystalline, or crystalline.
PECVD SYSTEM APPLIED MATERIALS P5000 MARKII
Applied Materials' P5000 is a single-wafer, multi-chamber plasma-enhanced chemical vapor deposition (PECVD) system for the deposition of dielectrics. It can deposit undoped and boron/phosphorus doped silicon oxide, so the optical and physical properties (small changes in refractive index, HF etching speed, flowability…) can be adjusted. It works with a TEOS liquid source which helps to obtain very conformal layers.
Silicon oxide and doped silicon oxide (BSG, PSG, BPSG)
Liquid source for TEOS, TMB and TMP.
CENTURA 5200 Applied Materials DxZ Silane PECVD 6″
Centura 5200 with DxZ chambers is plasma-enhanced  chemical vapor deposition system  used to deposit SiO2, SiN, SiON and a-Si:H thin films from a gas state (vapor) to a solid state on a substrate. Chemical reactions are involved in the process, which occur after creation of a plasma of the reacting gases. The plasma is generally created by radio frequency (RF) (alternating current (AC)) frequency or direct current (DC) discharge between two electrodes, the space between which is filled with the reacting gases.
SiO2, SiNx, SION y a – Si: H
PECVD 8" CORIAL 250L System
Corial D250L PECVD system achieves rapid and uniform deposition for a wide range of materials including SiO2, Si3N4, SiOCH, SiOF, SiC and aSi-H films, on wafers up to 200 mm diameter. Optimizing film stress control is simple to accomplish thanks to the reactor's symmetrical design. COSMA Pulse software enables pulsing of any recipe parameter. The pulsing feature enlarges the process window to achieve better control of film properties.
PECVD system with vacuum load-lock for 200 mm wfs
300 W 13.56 MHz Automatic laser end point detector
lsothermal reactor placed inside a vacuum Vessell and 11n-situ plasma cleaning.
MFC:s are 1000 sccm Ar, 1000 sccm N2, 2000   sCcm N2Q, 500 sccm NH3, 100 sccm C2H4, 100   sccm SiH4 (non diluted) and 200 sccm SF6.
BLACK MAGIC AIXTRON PRO PECVD 6″ System
PECVD-Graphene the Aixtron Black Magic is dedicated to graphene synthesis and can accommodate multiple pieces or a single 6″ wafer, with methane and hydrogen available as process gases. The system used for this process is the cold wall.  Process recipes have been optimized and are available to the user for the following: Cu foil, Cu-evaporated substrates, Ni substrates and sapphire.
Cu, Ni, Si02, e-Si, Al2 0 3
Thermal CVD and plasma-enhanced   CVD
Kenosistec's KS 500 C is a sputtering system equipped with RF, DC and DC-pulsed generators for sputtering any kind of material adjusting its physical properties both directly from source materials and by reactive sputtering. The tool can be used with substrates up to 200 mm diameter with control of the substrate temperature up to 700ºC.
Emitech Chromium Sputter K675X
Emitech K675X is a DC magnetron sputtering system for conductive material deposition. Turbo pump and Peltier cooled sputtering provide fine grain metal deposition. Available materials include Cr, Ti, Al, Ti/W and ITO..
Borosilicate Glass 300mm Día. x 200mm H
54mm Día. x 0.3mm
Thick Chromium fitted as standard
Order of 0.5nm Cr Grain Size
Adjustable for 6-to-8-inch Wafers
Height spacing to target: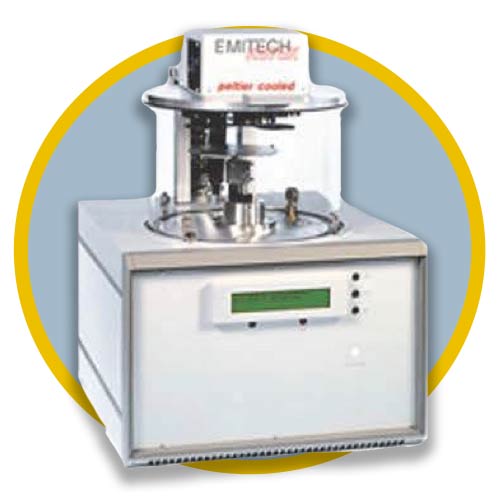 Electron beam evaporation system Pfeiffer Classic 500
The Pfeiffer classic 500 is an e-beam evaporator with 4 pockets, each pocket can receive a different material and each material can be evaporated with its own process parameters (e-beam voltage, current intensity, sweep mode…)
A total of four 6" wafers can be evaporated in each run. This tool is used to deposit metals such as Au, Cr, Ni, Ti, Ag, Al, Cu used for etching masks or any photonics application.
Programmable deposition controller:
Quartz crystal thickness sensor:
EMO protection and safety interlocks:
Au, Ag, Cr, Ti, Cu,
Al, AICu, Ni, NiCr,
Fe, GST(225 and 326)