El proyecto AVANTI tiene como finalidad avanzar en la nanofotónica en silicio, de forma que se puedan desarrollar dispositivos y subsistemas con mejores prestaciones (velocidad de proceso, coste de producción, gasto energético, sensibilidad de detección, etc.) para los ámbitos del biosensado y las interconexiones ópticas. A largo plazo, el objetivo es habilitar nuevas tecnologías que mejoren la calidad de vida de la ciudadanía y que sean más respetuosas con el medio ambiente así como de contribuir al desarrollo de una sociedad más justa y equilibrada. De esta forma, AVANTI pretende desarrollar una tecnología transversal, con múltiples sectores de posible aplicación, que se ubica en la intersección entre la fotónica y la nanotecnología, ambas consideradas tecnologías facilitadoras esenciales (Key Enabling Technologies) tanto en Horizonte 2020 como en el Plan Estatal de Investigación Científica, Técnica y de Innovación.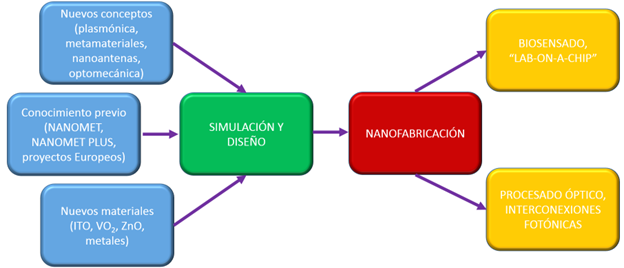 Publicaciones derivadas del proyecto AVANTI
2023
Engineering multiple GHz mechanical modes in optomechanical crystal cavities

L. Mercadé, R. Ortiz, A. Grau, A. Griol, and A. Martínez

P

hysical Review Applied 19, 014043, 2023.

Accurate Transfer of Individual Nanoparticles onto Single Photonic Nanostructures

Javier Redolat, María Camarena-Pérez, Amadeu Griol, Miroslavna Kovylina, Angelos Xomalis, Jeremy J. Baumberg, Alejandro Martínez, and Elena Pinilla-Cienfuegos

ACS

Appl

ied

Materials & Interfaces

 15

, 2

, 3558–3565, 2023.

Light Guidance Aided by the Toroidal Dipole and the Magnetic Quadrupole in Silicon Slotted-Disk Chains

Evelyn Díaz-Escobar, Ángela I. Barreda, Laura Mercadé, Amadeu Griol, Alessandro Pitanti, and Alejandro Martínez
ACS Photonics, 10, 3, 707–714, 2023.
2022
2021
2020
2019
Alignment Tolerant, Low Voltage, 0.23 V.cm, Push-Pull Silicon Photonic Switches Based on a Vertical pn Junction

A. Zanzi, C. Vagionas, A. Griol, A. Rosa, S. Lechago, M. Moralis-Pegios, K. Vyrsokinos, N. Pleros, J. Kraft, V. Sidorov, B. Sirbu, T.Tekin, P. Sanchis and A. Brimont

Opt. Express, vol. 27, no. 22, pp. 32409-32426, 2019.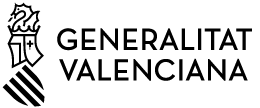 Project: ADVANCED NANOPHOTONICS ON SILICON (AVANTI)
Ref. PROMETEO/2019/123
Granted by: Conselleria de Innovación, Universidades, Ciencia y Sociedad Digital – Generalitat Valenciana